Next day delivery available
Plan printing
A0, A1, A2, A3 plan printing. Your plans printed, folded and delivered. Simple, fast and efficient with next day delivery available on orders placed before 3pm*.
What Size Plans Do We Print?
How Do We Process Your Printed Plans?
1. Print
We print all plans from PDF files on Xerox 80gsm plain white un-coated paper. Thus providing you a quality and cost effective print, prefect for CAD and line work.
2. Fold
All printed plans are folded to A4 size using the ISO216 standard. Your prints are then packaged robustly ready for delivery. We do not offer rolled plans.
3. Deliver
Send prints direct to Yourself, a Client or Contractor. We give you control over delivery including the option for Next Day Delivery.
Please Note: Our services is for CAD and line work drawings only, full colour posters will be rejected.
What is Plan Printing?
Plan printing is when digital copies of drawings or construction documents are printed accurately to scale on large format paper. For example, a set of Architects drawings for a renovation project would typically consist of plans, elevations and sections drawn to a set scale, typically on an A1 sized sheet of paper. Builders and contractors use the printed plans on-site to view and commence work from. However, even before work on-site has begun, printed drawings are used heavily for the pricing and procurement of materials, trades and bespoke items. Printed drawings must be printed accurately to the correct scale. Any errors in printing will lead to inaccurate measurements when measured from the plans and can result in cost and construction errors on-site.
Why Print Plans Online?
Online plan printing gives you the tools to print and send A0, A1, A2, A3 and A4 plans directly from your computer, mobile or tablet. Using our online plan printing upload tool, select the paper size, scale of print, colour or black and white and the number of copies required. You have the option to send plans directly to a client, contractor or the local authority. The most common paper size for architectural drawings provided by Architects, Engineers and designers is A1. A1 plans are easy to handle, simple to store and provide a great way to communicate design intent to clients and contractors. Detailed A1 plans will often display colour to assist with clarity and identifying key details. If an A1 plan does not provide sufficient space, A0 plans are the next size up. A0 plans get generally used for site plans and low use architectural drawings such as key layout plans. A0 plans are large and not comfortable to handle. A0 Plans therefore tend to be used less for on-site work, and more for in-office review. For smaller works, A2 plans offer a great alternative. A2 plans are smaller in size than both A0 and A1 and are used commonly for presentation, electrical layouts and interior design. Householder planning application drawings often are presented on A3 plans due to the small scale nature of the works. It is, however, common to see both existing and proposed layouts displayed on a single A1 plan. Planning application drawings generally use colour to present the architectural design clearly and show the contrast between materials.
Architects and Engineers
Architects and Structural Engineers regularly to use our service to print and send hard copies of proposals to their clients. With the advent of PDF files, Architects no longer need to print several drawings each week and therefore cannot justify the cost of maintaining a large format printer. Instead, Architects now send paperless copies in seconds to contractors, estimators and local authorities. However, when presenting proposals to a client, hard copy printed plans remain a favourite.
Estimators
Estimators and Quantity Surveyors use printed plans to measure, take off and make notes as they proceed with preparing bills of quantities. Printed plans make it quick and easy to scale from when preparing a bill of quantities. A1 plans get used regularly for detailed drawings, and now that Architects issue plans mostly in PDF format, it is up to the estimator to select which plans require printing. Online plan printing provides a quick and cost-effective solution for the estimator.
Specialist Contractors
Builders and Contractors require printed plans for quick and easy reference. A well-defined drawing can be pinned on a wall or laid out on the floor. A typical example is an electrical layout. An electrical plan will show a contractor where to position wires, holes, trunking and other services, including fixtures and fittings. Electrical layouts are often colour A1 plans which clearly show design intent. Specialist Contractors are increasingly using our services to send plans directly to the site from head offices.
Festivals, Production and Event Management
A successful festival, production or brand event requires months of planing and organisation. Indoor and outdoor events require teams of people to co-ordinate over vast areas to ensure above all the health and safety of all attendees. Plans, schedules and site layouts play a vital part in ensuring all members of the team are informed. Trust Clickpost to print and deliver event coordination plans for your next event.
Model Making and Hobbyists
Skilled model makers use printed scale drawings to produce accurate reproductions of vehicles and transport such as model aircraft, model boats, model ships and model cars to name a few. Other activities requiring accurate prints include sewing patterns.
Why Use Clickpost to Print Your Plans?
Control your Printing
Designed for construction professionals. You have control over your prints. Our service allows you to select the paper size, the scale of the print, colour, and number of copies.
Quality as Standard
All your prints will be provided on Xerox Plain White 80gsm un-coated paper. This will provide you with a quality colour or monochrome print, perfect for CAD linework drawings.
Delivery Choice
Whether you choose to send prints direct to Yourself, a client, or contractor we give you control over delivery. Next-Day Delivery is available for orders placed before 3 pm*.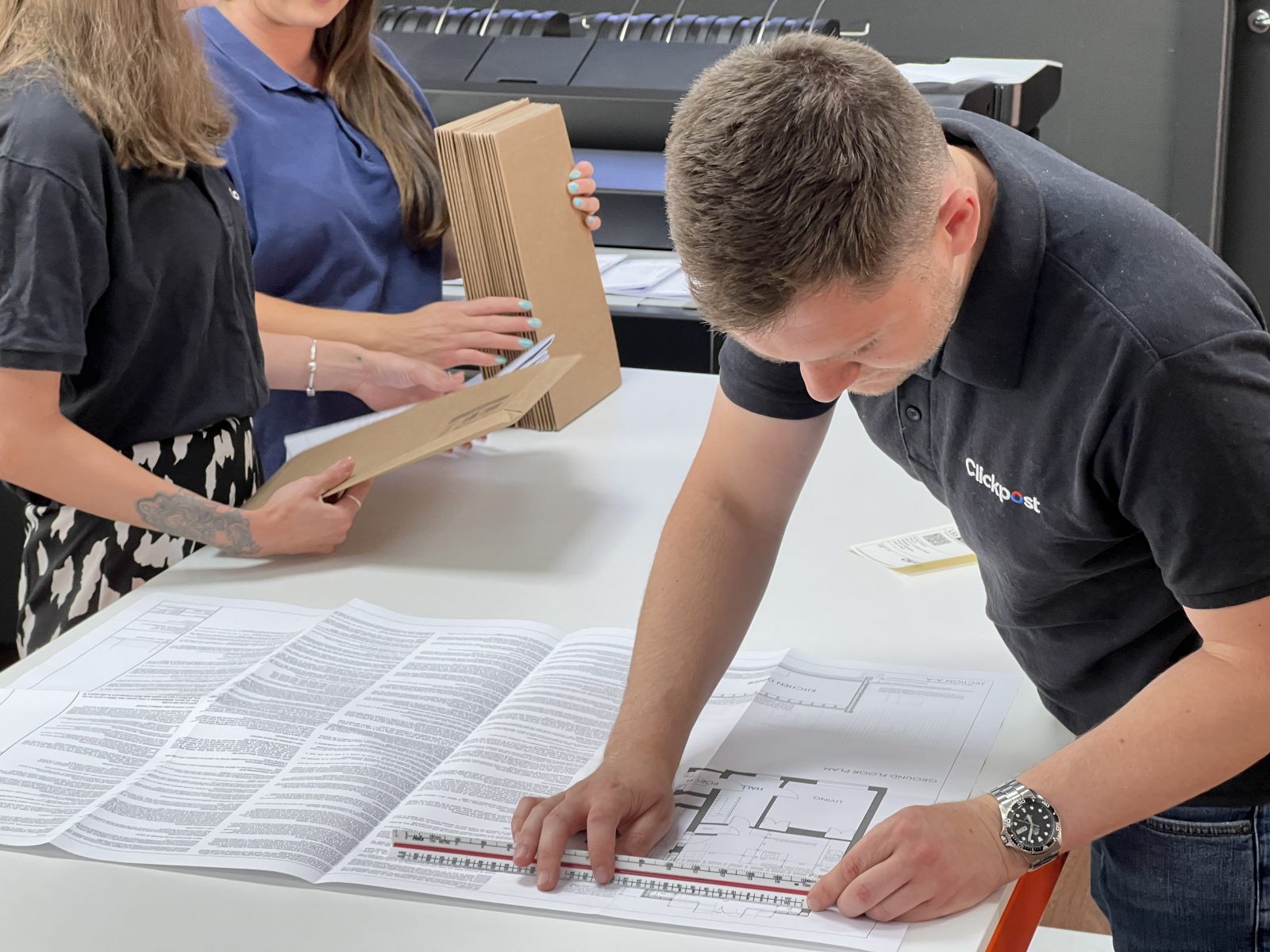 * Orders placed before 3pm will be processed the same working day. Orders placed after 3pm, on a bank holiday or weekend will be processed the next working day.
How long will delivery take, and how much does it cost?
Tracked Delivery.

Plans folded to A4 size.

Robust packing.

Delivery typically within 3 – 5 days.
Tracked Delivery.

Plans folded to A4 size.

Robust Packaging.

Delivery typically the next day, however allow 1 – 2 days
Tracked Delivery.

Plans folded to A4 size.

Robust Packaging.

Delivery the next day Before 1pm (on orders placed Monday - Thursday before 3pm).
Saturday
Delivery on Saturday
Tracked Delivery.

Plans folded to A4 size.

Robust Packaging.

Delivery on Saturday for orders placed on a Friday before 3pm.
Orders placed on weekends and bank holidays
Orders placed on a weekend or Bank Holiday will not be processed until the next working day. Please note that orders placed the day prior to a bank holiday, will not be delivered until the next working day.
Delivery tracking
Once an order has been dispatched, you will receive an email direct from our courier with details on how to track your order. Please ensure your email address and mobile phone number are provided for tracking updates. Check your junk or spam folder if you do not receive a tracking email. If you still have not received a tracking email, then please contact us.